Antique Spoonback Chairs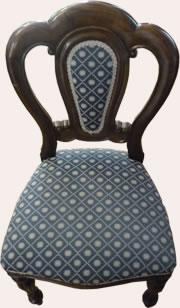 The Spoonback chair design stems from the back of the chair being shaped like the bowl of a spoon. Produced during the Victorian era, these chairs offer a unique appearance, and were often mass produced.

The styles from the Regency period were out of favour by 1835 and fashions trended towards furniture that was more ornate with plenty of curves and a little carving. As large numbers of the population moved into the industrial cities, there was a trend to show off wealth, or at least the impression of wealth, and the more ornate designs of spoonback and balloon back chairs became fashionable. Mahogany and walnut being very popular.
Wanted: Wanted Mahogany spoonback dining chair. 2 required

Wanted
Ref No. 756
Wanted - Mahogany spoonback dining chair. 2 required
View Full Details
SOLD: A very nice pair of matching ladies and gentleman's walnut spoonback chairs

SOLD
Ref No. 755
A very nice pair of matching ladies and gentleman's walnut spoonback chairs with very good carving and cabriole legs covered in a muted tapestry type fabric and all in excellent condition.
View Full Details
| | | |
| --- | --- | --- |
| | Spoonback Chairs 1-2 of 2 | |